Helpers Lab 130W Power Bank Portable Charger with 100W 30W USB-C PD3.0 PPS QC3.0 Compatible for MacBook Air Pro, Dell XPS, Surface Pro, HP Envy, Huawei, iPad Pro,iPhone, Galaxy S20 S21 Ultra and More 5V 9V 12V 15V 20V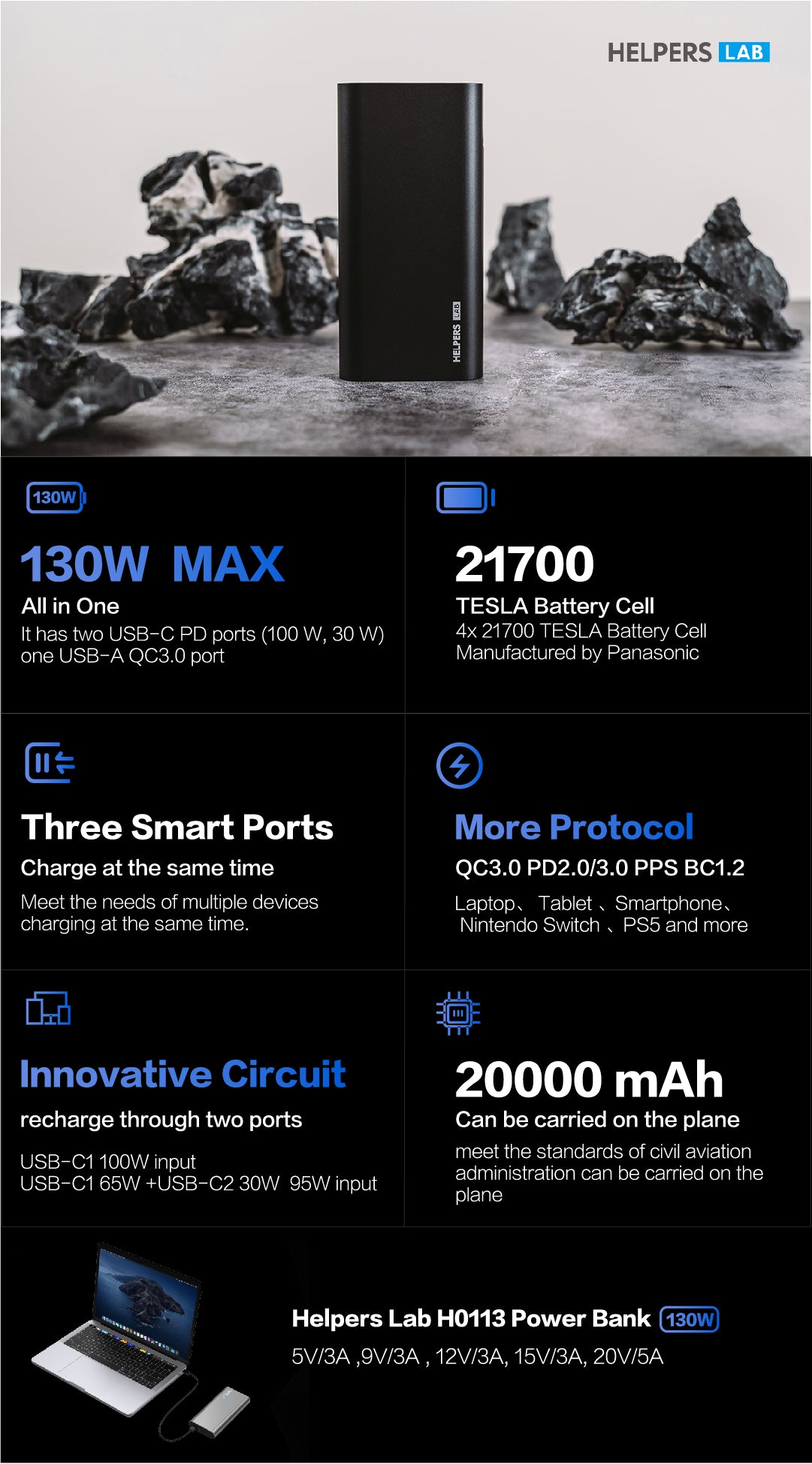 One Charger, Three Smart Ports:It has two USB-C PD ports (100 W, 30 W) ,one USB-A QC3.0 port . it can charge USB-C laptops, Phones and other USB-devices at the same time. 
100W USB-C PD Port: The output power is up to 100 watts, so it can easily provide power for laptops, Switch and other high-power devices anytime and anywhere, such as DELL XPS 12 13 HP X360 Macbook Pro Google Chromebook ASUS Zenbook and more .This port support PPS Protocol which can charge Galaxy Note 10 Plus S20 U and more
30 Watts USB-C PD Port: Compatible with most USB-C phones, For USB-C powered Android Smartphones such as Compatible Galaxy S10/S9/S9 Plus , Pixel 2/2XL Nintendo Switch and more. Collocating with MFI USB C to Lightning Cable enable Fast Charge for iPhone 12 Pro/11/XR/XS/X/8 Plus. This Port Not Compatible PPS Protocol
Input through two ports at the same time:The innovative circuit design supports charging portable battery through two ports at the same time. No longer need to endure the slow charging of ordinary mobile power source, 100W / 30W PD high-power two-way fast charging .Saves your time to charge the power bank . That is, if you don't have a 100W charger, but only 65W and 30W chargers, you can use them to charge the portable battery at the same time
18 watts USB-A QC3.0 port: Compatible with Qualcomm fast charge protocol mobile phones and other 5 volts smart devices, such as: Samsung Galaxy S10 S8 Note 8, HTC 10, LG G6/V30 and More
Protable Size:The design makes a super comfort in the hand. With size 150mm * 79mm * 23mm, smaller even than iPhone12 Pro Max. The Weight is About 427g ,The optimally light and thin power bank can be comfortably put in your pocket.
Strong, also healthy and rest assured:As a product you carry with every day, it is hard to avoid electronic products' born ripple radiation.HELPERSLAB has passed EMC international certification tests to minimize radiation exposure.Health and safety are indispensable.
One Long C to C cable is included:you can ignore the charging distance, and enjoy enough power without shackle.Support 5 Amperes large current with ultra-low resistance, combined all the advantages, the charging efficiency can be double-improved.You need to prepare an additional C to C cable on your own if you want to charge 2 Type C devices at the same time.
4x TESLA Compoite Battery Cell Manufactured by Panasonic