Adapter DC Plug Converter 5.5x2.5mm to 6.0x3.7mm for ASUS ET2400XVT G20AJ G752VS G750JY G750JZ; Asus ROG Zephyrus GM501GS GX501 GX501V GX501VI GX501VI-XS75 GX501VI-XS74 GX501VI-GZ027T ADP-230GB B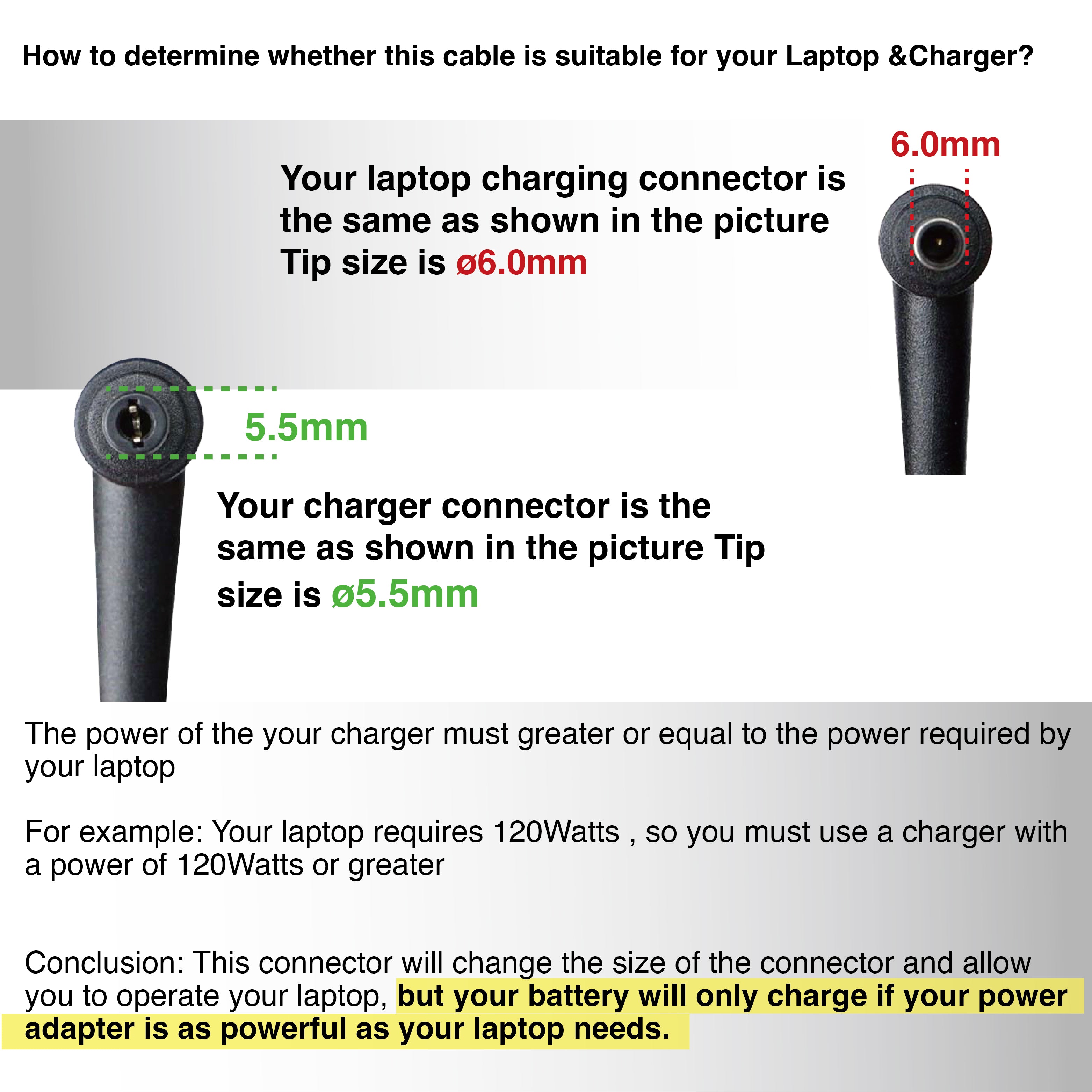 The size of the plug says nothing about the power supply: Different laptops require different combinations. You can easily use a too-powerful AC adapter, but if you plug in an insufficiently powerful AC adapter to your laptop, you will receive a warning message, and the battery may not charge (or the laptop may be in sleep mode) on the main network).
This connector will change the size of the connector and allow you to operate your laptop, but your battery will only charge if your power adapter is as powerful as your laptop needs.
If your charger has only 90W and the computer needs 180W power. The computer displays a warning message and cannot be charged. Or the computer is in sleep mode.

If your charger has 180 W and the computer only needs 90 W power. Then it can use the adapter cable.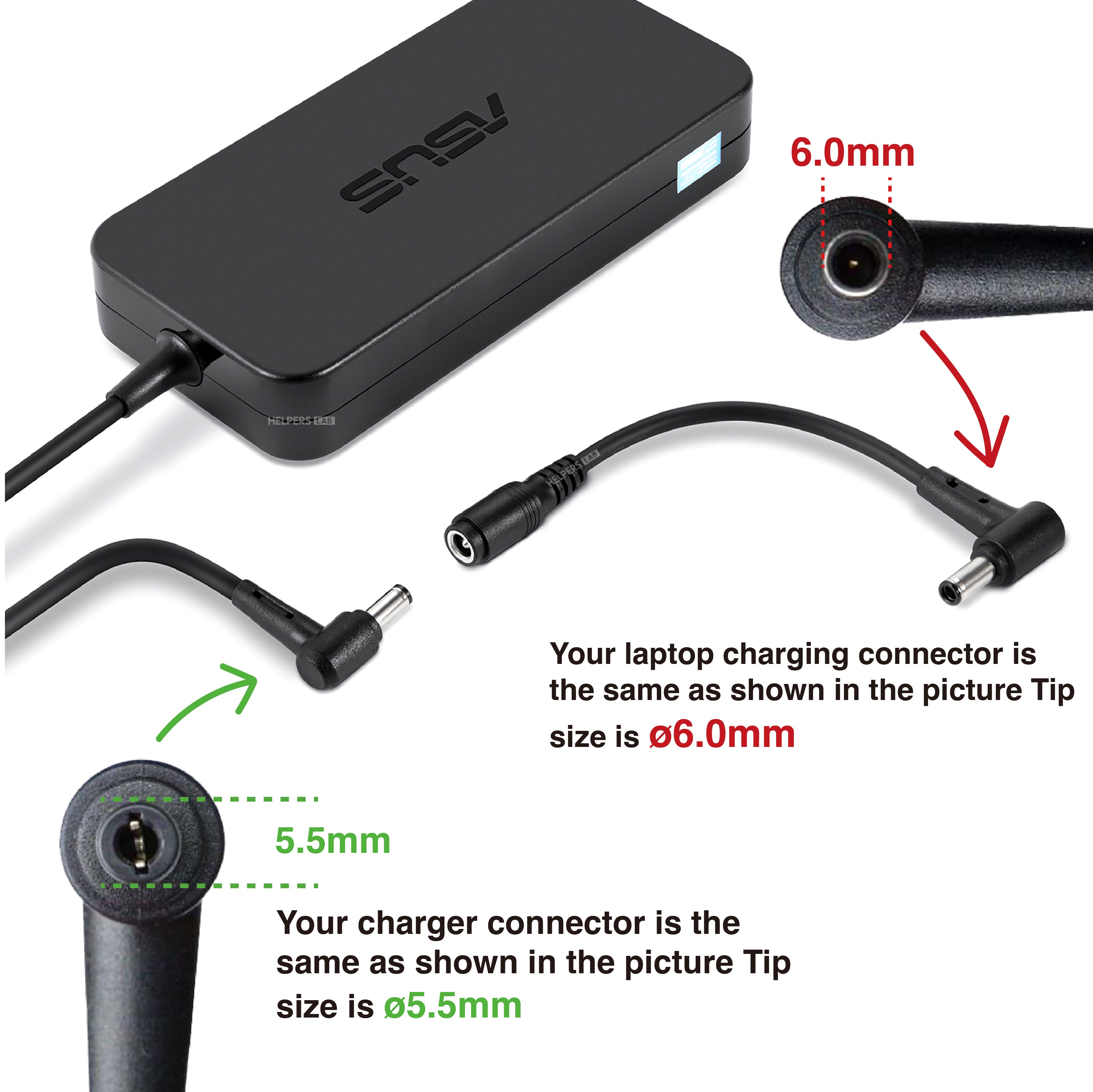 ASUS ROG Zephyrus GX501
ASUS ROG Zephyrus GX501V
ASUS ROG Zephyrus GX501VI
ASUS ROG Zephyrus GX501VI-XS75
ASUS ROG Zephyrus GX501VI-XS74
ASUS ROG Zephyrus GX501VI-GZ043T
ASUS ROG Zephyrus GX501VI-GZ038T
ASUS ROG Zephyrus GX501VI-GZ030T
ASUS ROG Zephyrus GX501VI-GZ028T
ASUS ROG Zephyrus GX501VI-GZ027T
ASUS ROG Zephyrus GX501VI-GZ025T
ASUS ROG Zephyrus GX501VI-GZ022T
ASUS ROG Zephyrus GX501VI-GZ021T
ASUS ROG Zephyrus GX501VI-GZ020T
ASUS ROG Zephyrus GX501VI-GZ020R
ASUS ROG Zephyrus GX501VI-GZ019T
ASUS ROG Zephyrus GX501VI-GZ005R
ASUS ROG Zephyrus GX501VS-GZ026T
ASUS ROG Zephyrus GX501VS-GZ027T
Asus ROG Zephyrus M GM501GS-EI003T
ASUS ROG GR8 II-6GT024Z
ASUS ROG GX531GS-AH76
ASUS ROG Strix GL702VS-DS74
Adp-230eb-t 0a001-00390000 N230w-01 Charger Power Adapter for Asus Rog G750jh G750jy G750jz G751jt G751jy , G20 G20aj Desktop , Et2400xvt Aio Series
ADP-230GB B,ADP-230EB T 0a001-00390000 N230w-01
ADP-230GB B,ADP-230EB T,0A001-00390800,0A001-00391100